4 Scenic Drives in the US
By Lindsey Wilhelm
Inspiration for US road trips that lead to can't-miss vacation spots
We've all heard the saying that it's not about the destination, it's about the journey. As a generally impatient person, I would normally argue that I'm all about the destination. But, in the case of beautiful stretches of open road in the US, I make an exception. Read on for four of my favorite road trips in the US (so far), and sit back and enjoy the ride!
1. Poipu to Waimea on Kauai, Hawaii
Road trip destination: Waimea Canyon State Park
30 miles
I was lucky enough to visit Kauai for my sister's wedding a few years ago. My whole family stayed at the Koloa Landing Resort at Poipu. One morning we all crammed into the rental car for an hour's drive to see the Grand Canyon of the Pacific, Waimea Canyon State Park.
The drive up to the canyon lookout points starts along a winding two-lane road with trees on either side. As you continue to climb in elevation, the rocks start to turn red. Up at the Waimea Canyon Lookout, we stayed for about an hour to take in the magnificent panoramic views of the 3,000-foot-deep canyon. The red soil layered with green foliage looked almost like a watercolor painting.
During the drive down, we pulled off the road a few times to take in more stunning views of red earth contrasted by blue ocean. I stopped to appreciate several small streams of water flowing through the brick-hued rocks.
On the way back to the hotel, I recommend pulling over for Hawaiian ice at JoJo's Shave Ice in Waimea. It was tough to decide between all of the decadent options, but I went with the Berry Berry—a delicious concoction of raspberry, blackberry, and boysenberry syrups layered with shaved ice and vanilla ice cream. I still crave this delicious treat when the weather heats up!
2. Phoenix to Sedona, Arizona
Road trip destination: Sedona red rocks
115 miles
Other than the Grand Canyon, Sedona might be the most popular tourist destination in Arizona. Millions of tourists flock to this otherworldly playground every year to see the stunning red rocks that make it famous. I'm lucky enough to have lived within driving distance of Sedona for my whole life, so I've gotten to visit countless times.
I recommend two stops during this two-hour drive. First, in Black Canyon City, stop for a bite to eat at Rock Springs Café—but don't leave without a slice (at least) of pie. This place—open since 1918—is proud to claim the title of most pie sold in any single location in the state. As a Phoenix native, I can confirm that Rock Springs has a serious reputation as the best pie in the state, and it's one of those must-stops when heading up north.
About 25 miles up the I-17 is the second pit stop. Look out the window to the east to see the concrete structures of Arcosanti peeking above the desert horizon. Construction of this "urban laboratory" began in 1970, and between 50 and 150 residents live in the compound at any given time. Visitors can take a tour any day of the week to learn about the project and see its unique architecture.
My favorite part of this drive starts once you get on SR-179 and red rocks become visible in the distance. By the time the highway turns into SR-89A, the stunning, fiery scenery surrounds you in every direction, complemented by the green foliage.
While in Sedona, I recommend exploring the shops along the main drag. If your pie-induced sugar rush has dwindled, pop into the Sedona Fudge Company for some of the most delicious fudge you'll ever find. And, of course, hiking in Sedona is a must, so consider burning off some energy on Devil's Bridge Trail or Bell Rock Pathway.
3. Eugene to Florence, Oregon
Road trip destination: Oregon Coast
60 miles
Eugene, Oregon, isn't just a college town. Although it's home to the University of Oregon, this city offers plenty more for visitors than bars and tailgate parties.
During a recent visit for a wedding reception at a Willamette Valley winery, I loved exploring the restaurants and coffee shops in vibrant downtown Eugene. I enjoyed a slice at Sizzle Pie and a bubble tea from Townshend's Tea Company—and walking along the Willamette River.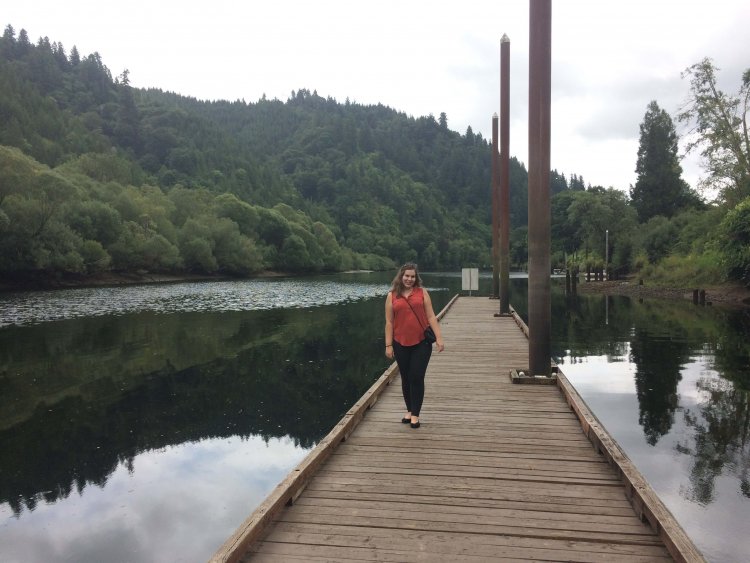 In contrast to the desert scenery that usually surrounds me, I'm awed by the lush greenery of the Pacific Northwest. Wanting to immerse ourselves in the area's natural beauty, my boyfriend and I took the hour-and-15-minute drive to the Oregon Coast. Winding forested paths under a canopy of trees who-knows-how-old led us to Florence, Oregon. The moment we reached a beach access point, we sprung from the car and climbed the rolling dunes to take in views of the Pacific Ocean. Boulders craggy from eons as punching bags for the tide; seagulls on the lookout for snacks overhead (maybe hoping for a scrap of soggy bread); tall grasses swaying like they belong in a soft jazz video; and air, salty, damp, and rich.
We hopped back in the car and drove 15 minutes north along the Oregon Coast Highway to visit the Sea Lion Caves, located on a cliff side overlooking the ocean. While there, we paid our modest admission fee and took an elevator more than 200 feet down to the cave lookout. We observed dozens of sea lions lying on rocks jutting up from the ocean while listening to their symphony of loud barking sounds. After taking the elevator back up to the cliff tops, we checked out the viewing deck to take in more views of the ocean. We even spotted a few gray whales swimming along the coast.
4. Tucson, to Bisbee, Arizona
Road trip destination: Yurt at the top of the mountain
95 miles
One of my favorite quick drives from Tucson is to Bisbee. This historic copper mining town in Southern Arizona is just an hour-and-a-half drive from Tucson and 10 miles from the Mexican border at Naco. Once you get off of the I-10 near Benson, the rest of the drive is a scenic journey that takes you from cacti and dirt to rolling green hills and red-rock mountains.
I recommend making a stop along the way—or more like a step back in time—along Allen Street in Tombstone, where daily Old West gunfight reenactments and period buildings set the stage for a wild (west) good time.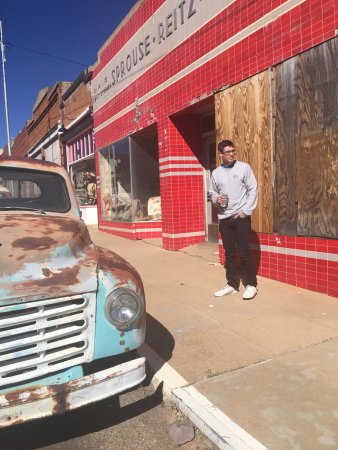 You'll know that you're almost in Bisbee when you drive along I-80 through the Mule Pass Tunnel built into the Mule Mountains. Just a few minutes later, look out to the left to take in views of historic downtown Bisbee and the colorful shops, hotels, and restaurants along Main Street.
To make for a star-studded night in Bisbee, stay at the decked-out yurt on top of the mountain (the same mountain you drove under!) for a truly unique experience. This Airbnb boasts gorgeous panoramic views of tree-covered mountains and the brightest stars I've ever seen. Staying in a circular hut with a top that opens is glamping at its finest.
While in Bisbee, make sure to stop at Santiago's for the short-rib nachos or Poco for vegan nachos. Grab a cup of joe with breakfast at Bathtub Coffee, and then drive a few miles southeast to the original Bisbee Breakfast Club. Even though the food is delicious (and the biscuits are as big as your head), the best part is the cool sights to see. Stop at the Lavender Pit lookout to see a former open pit copper mine that resembles a miniature Grand Canyon. And, while you're waiting for your table at Bisbee Breakfast Club, walk down Erie Street to explore Lowell, Arizona, a ghost town preserved by the Lowell Americana Project. This adorable street will make you feel like you walked straight into the nostalgia of Cars, with kitchy storefronts and old-school cars—and even a Greyhound bus.
Hit the road
I've only visited 14 US states (not including airport layovers) so far in my life, so there are undoubtedly more drives I'll fall in love with in the future. I'm planning a trip this summer to explore Mystic Hot Springs in Monroe, Utah, as well as several Northern Arizona hot spots (Horseshoe Bend and Antelope Canyon, anyone?). So, check back for updates as I continue exploring the country and find new favorites. In the meantime, read more stories about US road trips.