Hospitality Highway Uncovered
By Quincy Koetz
7 destinations lined up for outdoor fun
Northern Georgia is the outdoors playground of the South. And nowhere is that more evident than among the seven communities that make up Hospitality Highway, just north of Atlanta. Whether you're the rugged type, or simply looking for a place to get your family outside, Hospitality Highway has a fresh-air destination to inspire.
Buckhead: Natural selections
Start your journey on the Hospitality Highway in the stylish Atlanta neighborhood of Buckhead, home of the Atlanta History Center. In addition to their remarkable exhibits and historical collections, those who love nature will be drawn to the six Goizueta Gardens. Stroll through Sims Asian Garden among the gorgeous Japanese maples, azaleas, and hydrangeas. Spring brings an abundance of color from flowering trees, and fall has explosive autumn hues. The history center also encompasses Swan House, now recognized as President Snow's stately mansion in the film version of The Hunger Games.
Families should absolutely visit Little Nancy Creek Park to picnic and play. The playground itself is designed with nature in mind—both in theme and with how seamlessly it fits the surrounding environment. Plus, kids love to play in the creek and scout for local wildlife. Even if you aren't traveling with kids, you'll appreciate this spot for the feeling of being far from the bustling of city life while walking the quarter-mile trail through the woods and green space—a natural oasis in the Atlanta cityscape.
Sandy Springs: The Gentle side of the Chattahoochee
The Hospitality Highway runs parallel to the Chattahoochee River as it continues north, where the next stop is Sandy Springs. Georgia's great river is woven into the culture of the state, immortalized by art and country music that harken back to a simpler time. Start your exploration of the river at Morgan Falls Overlook Park. Rent stand up paddleboards and traverse the lake formed by the Morgan Falls Dam. You may have to remind yourself you're still within the greater metropolis as you paddle amid lush forests teeming with wildlife.
Looking to explore more of the river? There are plenty of ways to experience recreation within the portion of the Chattahoochee River National Recreation Area that flows through Sandy Springs. The water trail was established in 1978 as the first of its type. Gather family and friends for the excursion, and rent an inner tube or kayak at Nantahala Outdoor Center's Powers Island Outpost, and float the 6.5 miles between Johnson Ferry and Paces Mill. Rapids range from class I–II, which makes for welcoming water for relatively less experienced paddlers. Conquering this swift and pleasant section of the river will leave you with summer memories and many reasons to come back. Farther downriver, experience the heart-pumping thrills of cliff jumping at Jump Rock, or share a picnic on a sandbar.
Roswell: Go wild in Roswell
The Chattahoochee Nature Center is a nature lover's paradise with miles of hiking trails, acres of native plants, and interactive native animal exhibits. You'll get up-close and personal with many of the raptors and reptiles that call this rehabilitation center home. From butterfly gardens to bog gardens, you'll find fascinating plants and great ideas for your own yard. For an experience loaded with expertise, go on a naturalist-led canoe trip—offered throughout the year.
Old Mill Park preserves the ruins of a pre-Civil War-era manufacturing mill, including the Machine Shop, the only building left of the original 1839 mill. Download the Civil War app to hear stories of how these mills were burned by Union forces on July 7, 1864. Snap some great photos of the rushing waterfall created by the mill's dam. Cross Vickery Creek, via the pedestrian covered bridge, to find another part of the Chattahoochee River National Recreation Area.
Alpharetta: Fun on two wheels
If you dream of riding a dirt bike, your opportunity awaits at The Motorcycle Training Foundation's DirtBike School in Alpharetta. Take a day class and possibly leave with a lifelong hobby. No gear or prior motorcycle experience required. The school is open to children and adults, and offers advanced riding courses for those looking to hone existing skills.
Explore Alpharetta on a bicycle on the Big Creek Greenway, a flat, eight-mile paved road that meanders alongside the Big Creek watershed. Don't worry if you didn't bring a bike. The city's bike-share program, Zagster, has four stations along the trail, and the first three hours are free. After riding the trail, park your bike at the Zagster station at Alpharetta's Avalon before exploring the shops and restaurants of Avalon and downtown Alpharetta.
Cumming/Forsyth: Georgia's great lake and Sawnee Mountain
As you make your way north along Hospitality Highway into Cumming/Forsyth, you'll notice the sharp profile of Sawnee Mountain. The Mountainside Trails and Indian Seats Trails are steep, but less than four miles in total length. Hike the trails, and you'll be rewarded with views spanning 50 miles on clear days.
Afterward, cool off in Lake Lanier. With almost 700 miles of shoreline and plenty of islands, you have countless places to relax. Go for a swim at the beach or rent a boat and explore the islands and coves. If you have time, stay at least a night or two on the lake in a cozy cabin or a chic mansion.
Dawsonville: Gateway to the Appalachian Mountains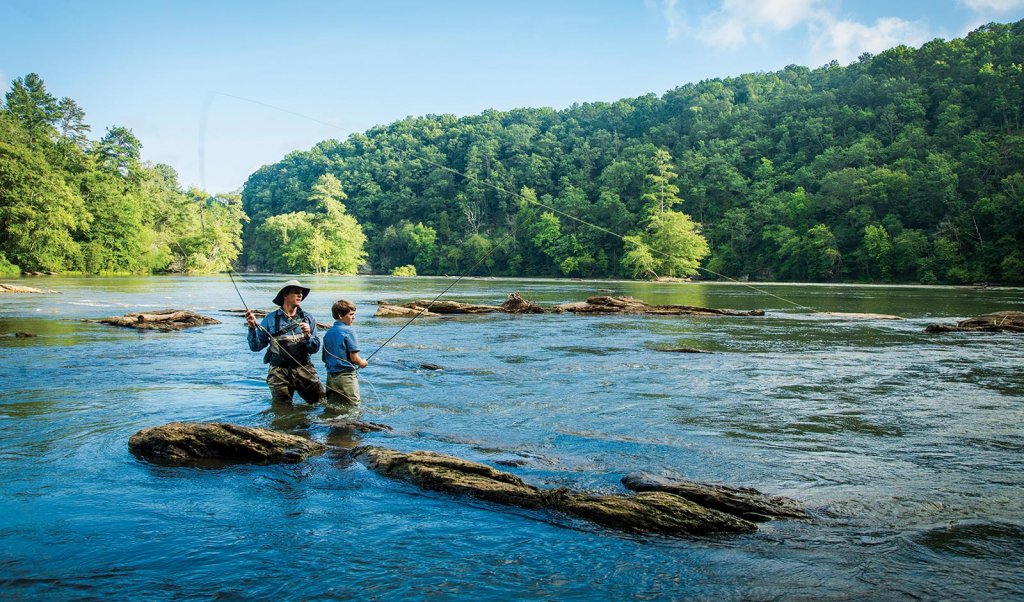 Dawsonville is a picturesque part of the Georgia high country. A don't-miss wonder is Amicalola Falls State Park. This 729-foot cascading waterfall is the tallest cascading waterfall east of the Mississippi River—taller than most skyscrapers in downtown Atlanta. Casual hikers and families with small children don't have to hike too far to get a good look at the waterfall. Feeling adventurous? Trek all 600 steps to the top of the falls.
Downstream from the park, paddle on the Amicalola River or the Etowah River. Rapids on these rivers range from lazy float trips to Class IV rapids. Scenic wilderness and solitude define most of the Etowah River. Outfitters in town will gladly advise you on where to start based on your experience level. Serious and seasoned whitewater kayakers take on the challenge of the Amicalola, which offers Class II through IV+ rapids.
Dahlonega: Wine country and high country
The Northern terminus of Hospitality Highway is the Dahlonega Plateau—Georgia's answer to California's Napa Valley. A combination of topography and temperate climate supports a dense collection of tasting rooms and vineyards that appeal to anyone's palate. Taste the region's bountiful varietals along the Dahlonega Wine Trail. People know Georgia as the peach state, but a few sips of Dahlonega wine may have you thinking about calling it the grape state.
Kayak fishers should head to Lake Zwerner. There, you're bound to catch a feisty bass from this placid lake nestled in the Appalachian foothills. Hikers and anglers looking to stretch their legs have plenty of territory to explore, too. The area features a moderately difficult 3.2-mile hiking trail around the lake. With modest hill climbs and stream crossings, reconnect with nature and catch great views along the way.
Hit the highway
Your travels on Georgia's Hospitality Highway might span from a day trip to a weeklong adventure, but you will leave with lifelong memories. The great outdoors line the road and are ripe for exploration. Hike, paddle, explore, and play along Hospitality Highway.