The Weird and the Wonderful: The South
By Brenda Kissko
11 southern myths that still mystify
Southerners are known for our—perhaps embellished, but always amusing—stories. We're happy to sit on a porch with a glass of tea or around a campfire with a taste of bourbon and entertain one another with yarns that sometimes have a way of growing. It's the tales, the legends, the myths passed down from generation to generation that bring a place to life. They're how we celebrate our lives. They're our excuse to gather, to travel, to explore.
No matter if you're from the South or just passing through, here are 11 Southern myths for you to explore on an epic road trip. Start along the trail and make a giant loop, or break it up into shorter itineraries. Not only will you encounter some of the strangest attractions in these states, but you're sure to make new memories with your travel buddies—fables for your next dinner party.
West Virginia
The Mothman, Point Pleasant
In the 1960s, several residents of Point Pleasant, West Virginia, saw a giant flying winged creature that looked like a tall man with wings and glowing eyes. They called it The Mothman. These strange sightings culminated with the disastrous collapse of Silver Bridge that connected Point Pleasant with Ohio, killing 46 people. Visit the Mothman Museum, attend the Mothman Festival, and take your picture with the Mothman statue.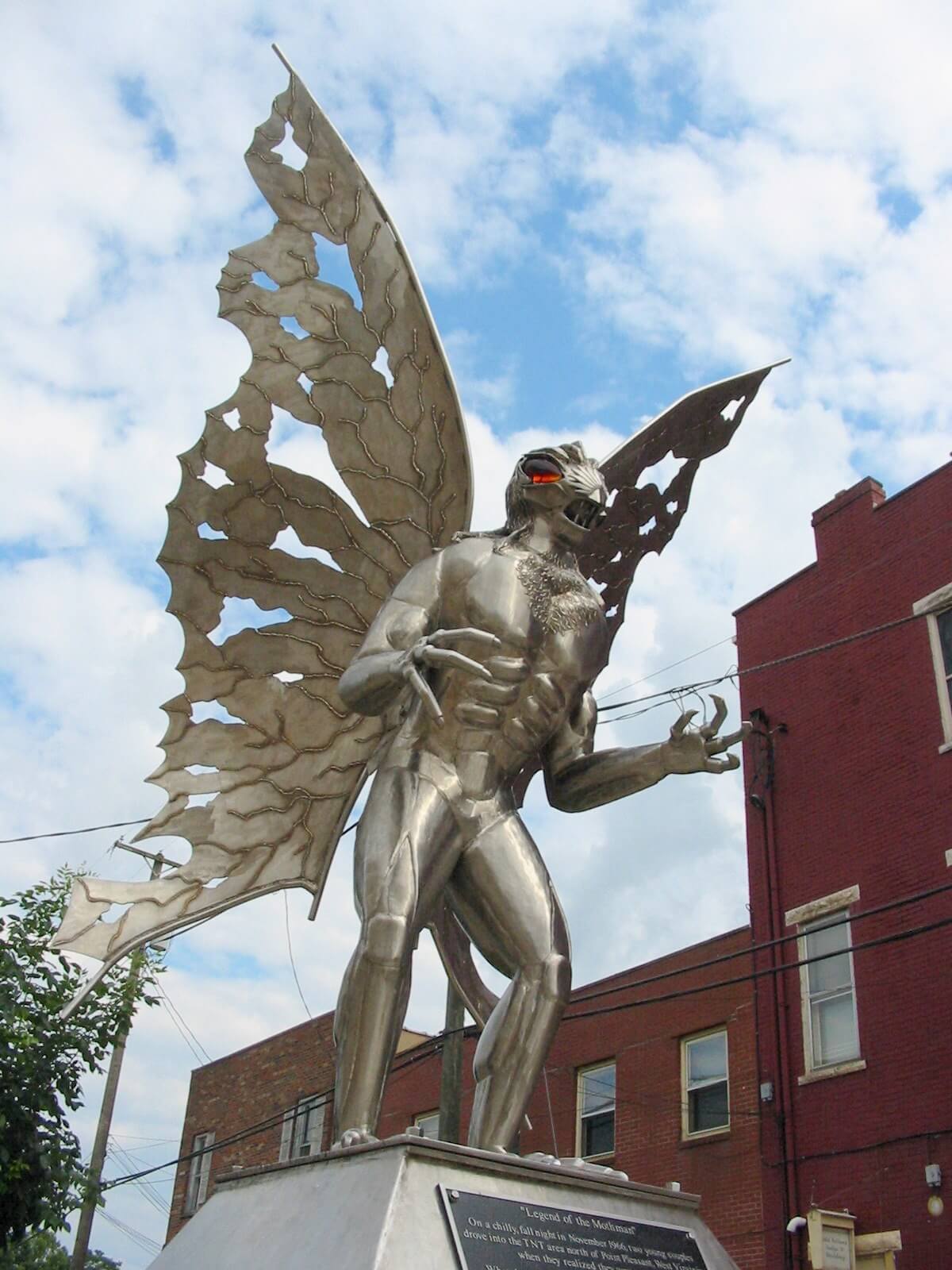 Before you go: Watch The Mothman Prophecies, starring Richard Gere, Laura Linney, and Debra Messing.
Tennessee
The Bell Witch, Adams
In 1817, the Bell family in Adams, Tennessee, was tortured on their farm by a ghost. When patriarch John Bell died in 1820 from a mysterious poisoning, the Bell Witch took credit. She continued to haunt John's children and returned again seven years later. Today, you can visit The Official Home of the Historic Bell Witch Cave on the land where it all took place.
Bonus: Book a river tubing adventure while you're there!
Arkansas
Boggy Creek Monster, Fouke
The Boggy Creek Monster, a 300-pound, 8-foot-tall, hairy two-legged creature, was first spotted in 1834 around Fouke, a small Arkansas town. Since then, countless people have seen the monster, as recently as 2017, according to foukemonster.net. Visit Monster Mart in Fouke for all kinds of souvenirs of the legend and to stock up on snacks before heading out to search for him yourself.
Before you go: Watch the many movies inspired by local stories, including The Legend of Boggy Creek (1972).
Oklahoma
Gravity Hill, Bartlesville
Head to Gravity Hill on Gap Road south of Bartlesville, Oklahoma, for an eerie experience. Stop at the bottom of the hill and put your car in neutral. What happens? Well, let's just say you won't roll down the hill. Some believe its spirits pushing your car uphill. Watch the online videos and then go try it for yourself!
Bonus: Stop at the nearby Pioneer Woman Mercantile in Pawhuska for Ree Drummond's beef tenderloin benedict and cowboy coffee.
Texas
Marfa Mystery Lights, Marfa and Alpine
Since the 1800s, the Marfa Mystery Lights have perplexed travelers. So much so that scientists and researchers from across the globe have trekked to sit along Highway 90 between Marfa (population 1,772) and Alpine (population 6,065) for a chance to see and study these lights that sometimes change colors, move in different directions, and divide. Is it aliens? Is it natural gas? Is it car lights? (Even though they were seen before cars drove on these roads.) So many have seen these phenomena that there's now a Marfa Lights Viewing Center, complete with picnic tables, restrooms, and binoculars.
Louisiana
The Voodoo Queen, Manchac Swamp
Voodoo priestess Julia Brown lived on Manchac Swamp (northwest of New Orleans) in the early 1900s where she enchanted locals with her charms, curses, and foretelling songs. She sang, "One day I'm going to die and take the whole town with me." On the day of her funeral, Sept. 29, 1915, a hurricane stormed through, overturning her casket and killing hundreds, leaving the swamp forever haunted. Book a swamp tour with companies like Cajun Pride Swamp Tours for a chance to see alligators and perhaps the voodoo queen herself.
Mississippi
Haunted McRaven House, Vicksburg
What was once a Confederate hospital is now "The Most Haunted House in Mississippi" and has attracted the likes of National Geographic and the Travel Channel. Go on a haunted tour or paranormal investigation at the McRaven House in Vicksburg, Mississippi, where you might encounter ghosts like former owner John Bobb who was murdered by Union troops.
Alabama
Huggin' Molly, Abbeville
Who doesn't love an old-fashioned soda fountain? Huggin' Molly's in Abbeville, Alabama, says they're "Frozen in the Fifties," serving up burgers and shakes and "friendly hugs." This all sounds delightful, but it probably wouldn't be so fun to encounter its namesake, Huggin' Molly, a giant spirit who will chase you down for a big hug, then scream in your ear if you're out in Abbeville after dark.
Florida
Coral Castle Museum, Homestead
Tour Coral Castle Museum where you'll see a feat that doesn't seem humanly possible. Edward Leedskalnin carved 1,100 tons of coral rock to singlehandedly build his "palace" in southern Florida. Ed spent the last 28 years of his life building this monument that rivals the wonder of Stonehenge and the Easter Island heads.
South Carolina
Lizardman, Bishopville
Don't get a flat tire in Bishopville, South Carolina. You might see the Lizardman, a seven-foot-tall creature with scales and glowing eyes, just like Christopher David did in 1988 when he got out to change a blown-out tire. The legend continues today and is celebrated at the annual Lizardman Festival and Comic Con.
North Carolina
Lake Norman Monster, Lake Norman
America may have its own Loch Ness monster. Lake Norman, near Charlotte, is a man-made lake with an abandoned community's buildings under its waters. But, there's more that lurks beneath. For more than 50 years, people have reported seeing a giant dinosaur-like creature in this lake. It's been described as a giant alligator or sturgeon. The Lake Norman Monster is still a mystery to this day.
Go travel the South, and discover all the weird and wonderful attractions that make us want to visit this storied region again and again.
Be sure to check out the other articles in the series, covering the Midwest, the Northeast, and the West.