Surrounded by Treasures in Portland, Oregon
By Oakley Hall
Portland, Oregon's neighboring terrain makes for awesome getaways
My hands-down favorite thing about Portland, isn't Portland at all. Yes—Rip City is probably the coolest weird town in the country, and happens to be where I grew up. Even so, let's talk around it. I mean literally: north, south, east, west—all around it! We'll find a natural playground from awe-inspiring and varied geography to make the most of your next Pacific Northwest getaway.
Here are seven landmarks crossing the compass that are less than a two-hour drive from the heart of Portland. Let's go!
Rip City is probably the coolest weird town in the country

NORTH
1. Sauvie Island
This is where I learned the art of tossing blueberries in the air and catching them in my mouth—up high, quick succession, with a spin, with a partner. My parents, brothers, and I spent countless hours at Sauvie Island U-pick farms filling buckets full of sweet, juicy Oregon berries (playing and snacking along the way). At this point, we're not even really outside of Stumptown—Sauvie Island is in a bordering river.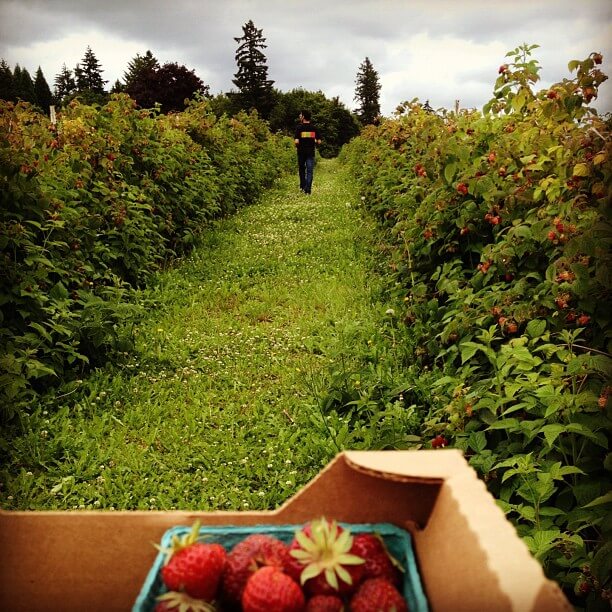 2. Mount St. Helens
Mount St. Helens is well-known for its monumental 1980 eruption. While that event was before my time, I've enjoyed a couple of visits to the scene. Johnston Ridge Observatory, which overlooks the crater, is host to exhibits and award-winning short films, and is the starting point to a few hikes.

What's most remarkable to me about this place is seeing an ecosystem in its infancy. After being incinerated, this piece of nature is returning to its wild state. Seed by seed, species by species, season by season, the ecosystem is rebuilding itself, and it's incredible! You can still see tree trunks—stripped of branch and bark—laying like giant toothpicks perfectly arranged pointing away from the epicenter. You can also see a valley of grass, flowers, and bushes, along with birds, chipmunks, bugs, and bigger critters—life in abundance.
SOUTH
3. Willamette Valley
The Willamette Valley (pronounced: will-Ammit, dammit!) is home to Oregon Ducks, Oregon State Beavers, outdoor recreation, and a bounty of beverages. It is world-famous for pinot noirs, but with about 500 wineries in this vine-friendly climate, you're going to find a wide range of varietals. While the grapes are outstanding, this is also beer country, so be sure to include stops for hops. A Willamette Valley sipping tour is still on my list of things yet to do in Oregon, so maybe I'll see you there one day. Cheers!

EAST
4. Columbia River Gorge
Claim to fame #1: Water and wind
The Columbia River Gorge, a protected National Scenic Area, is renowned on the global windsurfing stage. It is plain and simple one of the best places in the solar system for wind-sports. We're also talking kite-surfing and sailing, though there's plenty of other water rec including stand-up paddleboarding, rafting, wakeboarding, and the like.

If you're interested in trying windsurfing for the first time, head to The Hook, a shielded cove in Hood River that's perfect for beginner lessons. If you're an expert looking for a challenge (or a spectator hoping to catch the pros in action), head to The Hatch (aka The Hatchery, aka Kodak Point): it's exposed, there are big swells, extreme riders, and plenty of photo opps.
Claim to fame #2: Water and gravity
With around two million annual visitors, Multnomah Falls is the most popular natural attraction in the Pacific Northwest. I didn't realize that fact on the handful of visits I've made to this photogenic feature. Of course, I was also surprised when I learned kids outside of Oregon played that iconic early computer game Oregon Trail—it hadn't occurred to me that it wasn't just a local thing. Same with the falls. It's as much a local treasure as a global tourist attraction.

5. Mt. Hood
Alpine skiing and alpine sliding! There's a ton of mountain rec on Mt. Hood, but these are the two activities that bound to mind for me.
I cut my teeth skiing at Timberline and Mt. Hood Meadows. Timberline is the highest up of the six ski and snowboarding areas on this awesome glacier and offers the longest ski season in the country—year round, baby!
And for more mountain boasting, Mt. Hood sports the largest night skiing area in the country with Skibowl. Nearly half of Skibowl's 65 total runs are lit up and open for night skiing in the winter.

Come summer, Skibowl transforms into Mt. Hood Adventure Park, a playground with 20 features including Mountain Bike Park, bungee jumping, interpretive trails, and pony rides… and the Alpine Slide. It's called a slide, but it borders on rollercoaster… and it's half a mile long.
No need to worry about friction burn on the Alpine Slide. You sit in a cart fully equipped with a brake lever, and race at your pace on a fiberglass track winding through gorgeous mountain terrain. But if you're one of the riders liable to reach 30+ MPH, you may want to plan to soak in the view ahead of time as you take the chairlift to the top.
WEST
6. Coast
Cannon Beach is home to my favorite rock. Yes, I have a favorite rock—Haystack Rock. I actually think of it as my rock, but I gladly share with anyone as long as they take good care of it.
Happy couples have my permission to use it as a backdrop for eye-catching romantic photos. Families can huddle around little campfires nearby on the beach soaking in the view and salty air as they nosh on sticky s'mores. I encourage toddlers to take their parent's hand as they kneel beside a tide pool at the base of Haystack to marvel at sea urchins and starfish. It's through these experiences and countless more that I've come to care for this rock as my own. But really, I'm glad to share that ownership with anyone else who cares for my rock.

ALL AROUND
7. Forest
Oregon has almost 30 million acres of forest. To put it in perspective, that's about half of Oregon. Half! To me, that means air rich with oxygen and earthy scents that are as refreshing to the emotions as they are to the lungs. It also means camping.

Oregon camping happens tucked cozily in wilderness with tree branches hugging over and around a borrowed plot of land. It's where you get plenty of privacy from thick greenery between your crew and anyone else's party. It's where you can teach the kids how to carve an ideal marshmallow roasting stick and how to properly tend a fire—or in my case back in the day, be the kid mastering the skills. I often imagined myself as the lead character in Gary Paulson's Hatchet (but without actual danger of being lost and alone in the forest). In retrospect, I can see that Oregon is the perfect setting to entertain such an adventurous fantasy. And it satisfies that wild side.
AND BEYOND
If you travel a smidge beyond the two-hour driving radius from Portland, you've got exponentially more playground to explore. You can still easily reach the Oregon Dunes National Recreation Area, Crater Lake, Seattle, British Columbia….
Honestly, you could spend a lifetime exploring the Pacific Northwest and never run out of new experiences and things to do. And because Portland is at the epicenter of that incredible natural variety, it's always going be on on my radar as a vacation option.