Celebrating a Sesquicentennial
By Holly Rimmer
Discovering the historic treasures of Hampton, Virginia
Chris and I were adjusting to our lives as Empty Nesters. With our kids now graduated from high school and off at college, we'd been enjoying occasional weekend getaways, just because we could!
While chatting with my mom one afternoon, she mentioned that my grandfather's alma mater, Hampton University, was celebrating its 150th anniversary. I mentioned this to Chris, and he was immediately interested in spending a weekend in Hampton, Virginia, exploring the area's history. And I think time in Coastal Virginia is always a fantastic idea!
Curated and celebrated
The morning after we arrived, the Hampton Scuttle Bus picked us up from our hotel. It deposited us at our first stop of the day, the Hampton University Museum. Built in 1868, Virginia's oldest museum is tucked in the heart of Hampton University's campus. We passed between massive Doric columns flanking the entrance to begin our exploration of impressive multicultural artwork, including the nation's oldest collection of African-American art. We examined Harlem Renaissance pieces and lingered in front of Henry Ossawa Tanner's evocative painting, The Banjo Lesson. Moving on, we viewed contemporary works by John Biggers, Samella Lewis and Elizabeth Catlett, and an extensive collection of Kuba Kingdom artifacts.
Three galleries were dedicated to the "Pathways to Education: 1868-2018" exhibit celebrating the museum and university's 150th anniversary. We viewed student-made artifacts and vignettes showcasing how university and museum founder, General Samuel Chapman Armstrong, helped prepare his first 15 students for future trades. The exhibit also highlighted the contributions of all 12 Hampton University presidents, including those of current president, William R. Harvey.
After lunch, we roamed the historic university campus. Originally established to educate newly freed slaves after the Civil War, the sense of history there was palpable. It's a beautiful campus with distinctive architecture, tree-lined walkways, and sparkling waterside views on three sides.
We stopped in front of majestic Ogden Hall with its 24 fluttering flags that represent the countries of current students. I smiled at the pristine condition of the grass in front, recalling what my grandfather had told me—that if students walked on that grass, they wouldn't graduate on time. We passed the Italian-Romanesque Memorial Church and entered Clarke Hall to see the Charles White mural on the upper level, "The Contribution of the Negro to Democracy in America." A brochure from the front office helped us identify the significant figures in the mural.
Chris and I were excited when we finally arrived at the centuries-old Emancipation Oak. Standing beneath those massive, gnarled branches, I imagined what it must have felt like in 1863, to gather there with the rest of the local African-American community to hear Abraham Lincoln's Emancipation Proclamation for the first time. And it was beneath these same branches that Mary Peake, a free woman, held her first class of 20 students.
We rode the Scuttle Bus into downtown Hampton to shop and enjoy a relaxing dinner at The Vanguard Brewpub & Distillery, housed within historic Hampton National Guard Armory. The craft brewery serves Caiseal (pronounced "cashel") beer and spirits, brewed and distilled right on site. It was a delicious way to end our first day.
Stepping back in time
The next morning, we visited Aberdeen Gardens. The still-thriving neighborhood was part of Franklin D. Roosevelt's New Deal program. Established in 1934, the 440-acre subdivision was "Built for Blacks, by Blacks," and became the model resettlement community in the United States.
Chris and I had pre-arranged a private tour of Aberdeen Gardens Historic Museum, a representation of an original Aberdeen Gardens dwelling. Stepping through the door of 57 Mary Peake Blvd. was like stepping back in time as we moved through originally furnished rooms. But it was our guide's captivating stories that transformed it into a truly authentic experience.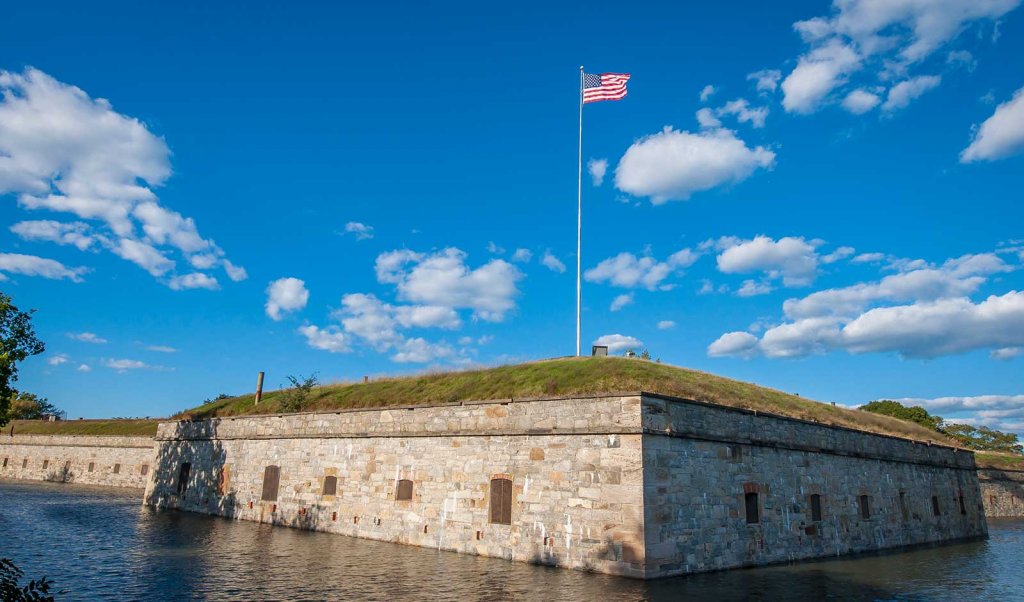 In the afternoon, we visited Fort Monroe—the largest stone fort in the country—on the southern tip of the Virginia Peninsula. Hampton's African-American history here dates to August 1619, when the first Africans arrived at Fort Monroe as indentured servants who were later enslaved. We learned that it was at this same location that Union Major General Benjamin Butler made the Contraband Decision of 1861, giving escaped slaves sanctuary during the Civil War. And in 2011, President Barack Obama declared the fort a national monument.
We roamed the still-intact grounds (complete with a moat!) and took in picturesque harbor views during a walk along the seawall. Inside the Casemate Museum, we saw displays chronicling more than four centuries of social and military history and the cell where Confederate President Jefferson Davis was imprisoned after the Civil War.
We'll be back
We had a little time before we had to head back home, so we stopped in at Oozlefinch Craft Brewery, situated in the midst of Fort Monroe. The decor offered a sort of rustic meets industrial vibe. Up at the immense bar, Chris selected their creamy, roasty, jet-black Oat Monster while I went with their award-winning Lady in White, a refreshing hefeweizen. The day was so nice, we went outside to enjoy our pints and play a few rounds of cornhole. We met a local couple who shared the story behind the brewery's unusual name. Apparently, it's based around a strange, large-eyed bird allegedly witnessed by a certain Captain H.M. Merriam in 1905. It was dubbed an "Oozlefinch," and went on to achieve legendary status.
We also learned that in August 2019, Fort Monroe would be commemorating the 400th anniversary of "African Arrival Day" with speakers, exciting activities, and interactive events honoring the heritage and contributions of the nation's first African Americans.
On our way home, Chris and I discussed how great it would be to participate in the African Arrival Day celebrations next year. We agreed to return for another weekend in Hampton. And although we were enjoying this whole Empty Nester thing, we also decided that next time, we'd bring the kids.