10 Ways to Explore Richmond
By Erica Curran
Discover at your own pace in Richmond, VA
Virginia's capital city is enjoying some time in the spotlight. Thanks to a youthful arts scene, a budding beer community, and some of the best food in the South, Richmond is raking in the accolades and landing on travelers' must-see lists. Here are 10 places to explore in and around the city.
1. Riverfront Canal Cruises
Climb aboard a covered boat and get an up-close look at Richmond's canal system with a Riverfront Canal Cruise. Operating seasonally (April–November), this 40-minute educational cruise delves into the history of the Kanawha Canal. The canal dates back to 1789 when George Washington lobbied the General Assembly to create a canal and turnpike system to connect eastern harbors with trade opportunities out west.
Explore: Make sure to snap some pics of your favorite spots for the 'gram while experiencing the James River.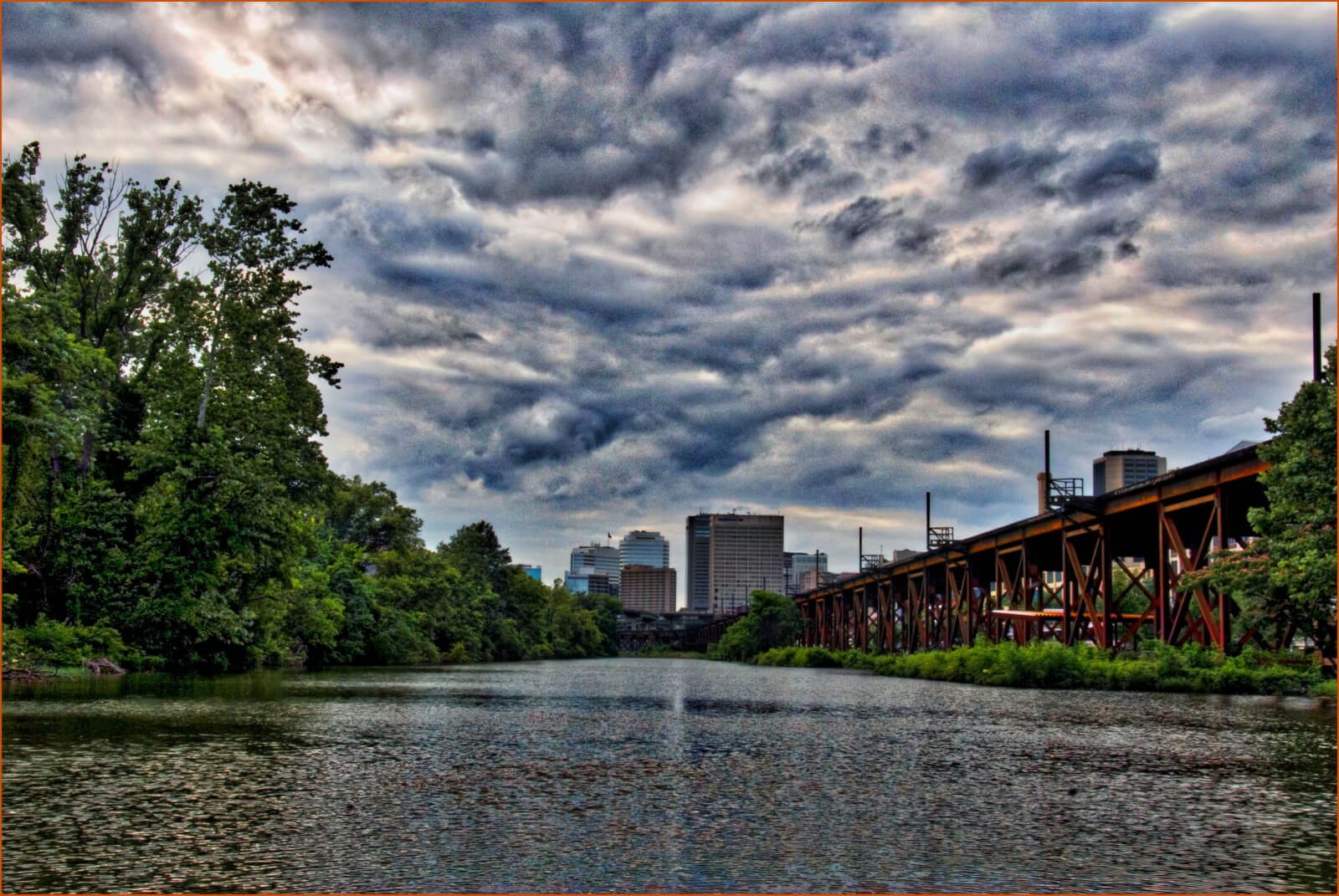 2. Maymont
With its rolling hills, immaculate gardens, and an impressive Gilded Age mansion, this 100-acre estate feels like it's a world away—despite the fact that it's in the heart of the city. Gifted to the public by wealthy 19th-century financiers James Henry and Sallie Dooley, Maymont is preserved for new generations to enjoy.
Explore: In addition to the expansive grounds and ornate mansion, there's a children's farm, a nature center, and regular events like the Richmond Jazz Festival.

3. Edgar Allan Poe Museum
Though he was born in Boston, writer Edgar Allan Poe was raised by his adoptive parents in Richmond. Here, you can find the largest collection of Poe artifacts and memorabilia in the world. Housed in one of the city's only remaining Colonial-period dwellings, it's just steps from Poe's first home and first place of employment.
Explore: The museum hosts regular "Unhappy Hours" where Poe fans can sip wine and listen to music while celebrating the tortured poet in the "enchanted garden" inspired by his works.

4. Brown's Island
Running through the center of Richmond, the James River has long carried the city's heart and soul with its currents. Brown's Island is just one of the city's popular riverside hubs. Separated from downtown by the canal, this is where you can find major events like Friday Cheers, the Folk Festival, and Dominion Energy Riverrock. It's also a great starting point for exploring attractions like the T. Potterfield Memorial Bridge, Historic Tredegar, and Belle Isle.
Explore: Walk, run, and bike in this six-acre riverfront park. You can rent a kayak, mountain bike, or paddleboard and adventure at your own pace.

5. King's Dominion
Situated 20 miles north of Richmond, the King's Dominion amusement park boasts one of the East Coast's largest collections of roller coasters. Spread across its 400 acres, you'll also find 60 different rides for all ages, a 20-acre water park, restaurants, shops, and more. Things get spooky in the fall when Halloween Haunt fills the park with haunted mazes and scare zones. And for the first time in 2018, King's Dominion transforms into a winter wonderland for Winterfest starting in November.
Explore: During the summer months, Soak City, the 20-acre waterpark, is included with admission! Get access to two parks for the price of one.
6. Richmond Beer Trail
VinePair called Richmond the Number 1 beer destination in the world for 2018, and with more than 30 craft breweries and counting, it's easy to see why. Grab a Beer Trail map to discover urban breweries and cideries, family-friendly suburban spots, and rural breweries where you can while away an afternoon with a cold brew.
Explore: Raise a specialty ale at Legend Brewing Co., Richmond's inaugural craft brewery, and toast where it all began.
7. Lewis Ginter Botanical Garden
Frequently ranked among the top public gardens in America, Lewis Ginter has more than a dozen cleverly themed gardens spread across its 50 acres, including a children's garden, the Asian Valley, a cherry tree walk, and a conservatory. Thursdays in the summer, Flowers After 5 invites visitors to enjoy wine and live music on the grounds. And the holiday season is a pretty big deal around here—the Gardenfest of Lights features model trains, fire pits, family activities, and about half a million twinkling lights.
Explore: The interactive children's garden features an accessible tree house.

8. Virginia Museum of Fine Arts
One of the largest comprehensive art museums in the US, the VMFA boasts a collection spanning 6,000 years of art history. Admission is always free to exhibitions ranging from French Impressionism and Chinese art to African art and Art Nouveau. For a small admission fee, you can also see special exhibitions highlighting artists like Kehinde Wiley and Yves Saint Laurent.
Explore: There's live jazz on Thursday nights, a hugely popular happy hour at the museum café on Friday nights, and the museum stays open late (until 9 p.m.) both nights.
9. Virginia Capital Trail
This scenic 52-mile pedestrian and bicycle trail connects Richmond with Williamsburg along the historic Route 5 corridor. Particularly popular with cyclists, the trail begins at Richmond's historic Great Shiplock Park and passes landmarks such as Richmond National Battlefield Park and Deep Bottom Park before hitting Williamsburg.
Explore: Experience history at the Richmond National Battlefield Park, 1.5 miles north of the trail at mile marker 35.5.
10. Carytown
You won't want to miss the nine-block span of Carytown, Richmond's lively dining and retail district composed of mostly locally owned joints. Dining options range from old-school deli Coppola's to upscale French restaurant Can Can Brasserie and trendy burger bar Citizen. For shopping, there are little bookshops, lingerie boutiques, bike shops, vintage emporiums, and hipster havens like Need Supply Co., a clothing and home decor retailer.
Explore: Want to catch a movie? The historic Byrd Theatre is one of the best deals in town.