Uncover Insta-worthy shots across the Alpena Area in Michigan
It's late. Time to return from the Instagram rabbit hole you've been exploring for hours. Your computer screen blinks to black and you head off to bed to dream of destinations visited virtually on someone else's Instagram posts. In your dreams, you're the go-getter in the neon fleece gazing out over Thunder Bay. The worldly traveler who rents kayaks and finds fossils. The congenial visitor who swaps yarns with bartenders and learns about local lore.
We get it. And we're here to say, "Grab your camera, snag a backpack, and get out here!" If the Alpena Area is your destination for an Instagram treasure hunt (and why not?), here's where to go and what to snap for your fascinated followers. Use this to create your own self-guided tour of northeastern coastal Michigan and make sure to tag #VisitAlpena. We'll see you on Instagram!
Sinkholes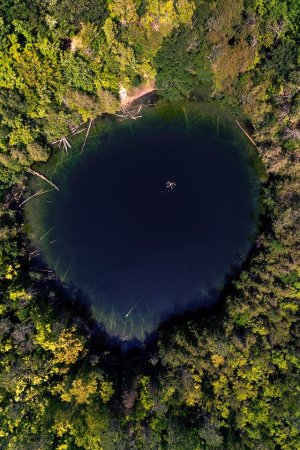 Sounds like something out of Star Trek, but it's an actual geological phenomenon. It occurs when layers of specific minerals in the earth dissolve away, creating underground caverns. Eventually, the ground collapses into those caverns, and voilà. Sinkhole. The Alpena Area has the highest concentration of them in the country! Check out the impressive drop-offs at Stevens Twin Sinks and Bruski Sink (both dry sinkholes), or capture the deep green pools (water-filled sinkhole) at Rockport State Recreation Area.
Dark Sky Preserve Parks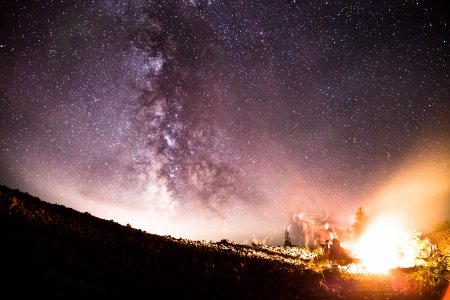 Spot constellations. Learn to shoot a starlapse. Tell ghost stories. Contact your extra-terrestrial acquaintances. You can do it all in northeast Michigan's official Dark Sky Preserves. These secluded sanctuaries of darkness record some of the lowest light pollution in the Great Lakes region. Here are three just waiting to be made famous by your posts: Rockport State Recreation Area, Thompson's Harbor State Park, and Negwegon State Park.
New Presque Isle Lighthouse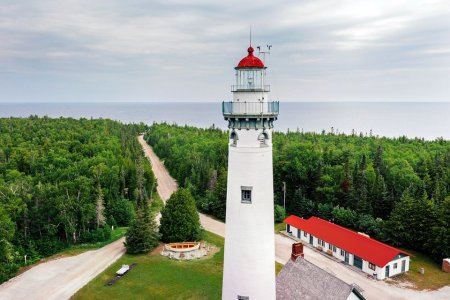 This historic eye-catcher has been a beacon to Great Lakes ships since 1870. It's the tallest Great Lakes lighthouse you can climb, and its Keeper's House serves as a local museum and gift shop. If you enjoy that, why not create a collection of lighthouse posts? There are plenty more in the area, such as Old Presque Isle Lighthouse, 40 Mile Point Lighthouse, Sturgeon Point Lighthouse, and Alpena's plucky "Little Red" Lighthouse.
Community Mural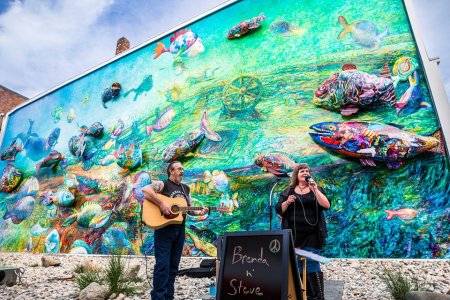 In the coastal communities of the Alpena Area, water is everything. Fishing is a major pastime, shipwreck tales abound, and lighthouses dot the coast. How better to celebrate this bond with the aquatic than with a community mural? "Make a Splash for Art" is composed of 2-D artwork and 3-D fish designed by the community — all pulled together by artist Tony Hendrick. It'll be the perfect background for your downtown Alpena selfie.
Court Yard Ristorante Objet d'Art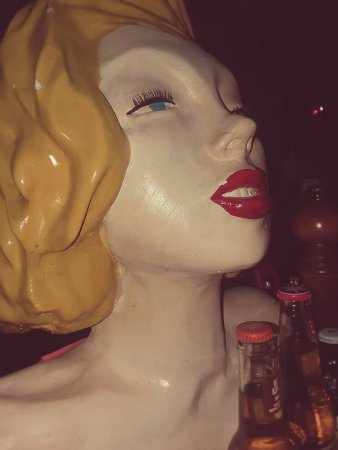 There are two reasons to stop by this well-loved local restaurant. The first is the excellent food, of course. The Courtyard Restaurant is known across northeastern Michigan for its fresh fish, piled-high pizza pies, and decadent desserts like their house-made black magic chocolate cake. The second reason is to get in a quick photo shoot with an unusual fixture of the establishment: the colorful bust of Marilyn Monroe. She hangs out at the bar, the perfect place to snap an American icon.
Wooden Bridge and Water Tower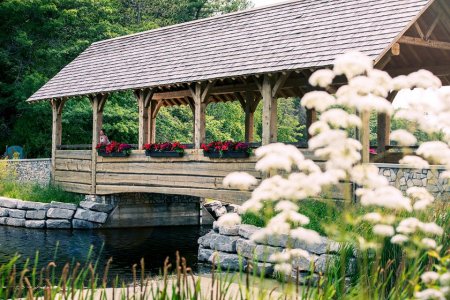 Walk across the covered footbridge to Island Park, part of the Alpena Wildlife Sanctuary, and you'll be touching a true work of handcraftsmanship. This wooden bridge and the matching water tower were the gifts of a local Alpena Area man who loves woodworking and his hometown with equal passion. A photo of this peaceful setting is a must to mark your visit to the Alpena Area.
Shipwreck Alley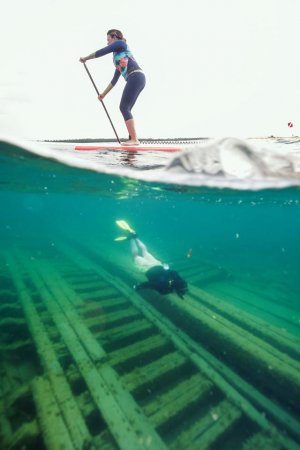 For your next posts, cast yourself in the exciting role of shipwreck explorer. The Thunder Bay National Marine Sanctuary is home to close to 200 historic shipwrecks preserved beneath the cold, fresh waters of Lake Huron. Certified scuba divers can get up close and personal with deep-water wrecks, while anyone can view the shallow-water wrecks from above with a kayak, SUP board, or snorkel kit.
Glass-bottom Boat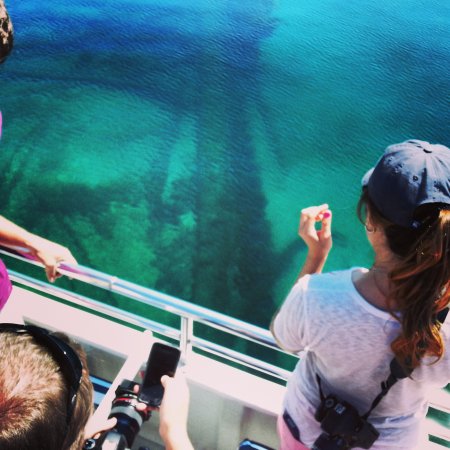 Here's another way to encounter the treasures of "Shipwreck Alley": a glass-bottom boat tour! These tours will take you out to view the wrecks through special viewing wells in the floor of the boat. All you have to do is point your camera straight down to get pics of the incredible ships that once sailed the Great Lakes and ultimately found their final anchoring places in Thunder Bay.
Maritime Heritage Center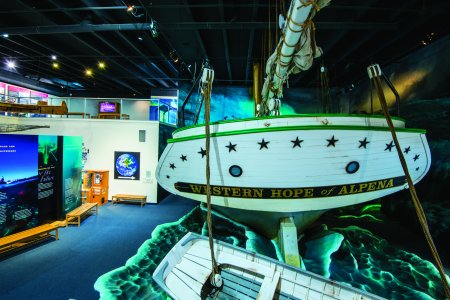 Quench your thirst for knowledge at the free Great Lakes Maritime Heritage Center and learn about the archeological significance of the Thunder Bay shipwrecks. The immersive exhibits span 9,000 square feet and include a full-sized replica of a Great Lakes schooner that you can actually walk on. And watch out, because you might just happen to experience a thunderstorm while you're on board!
Fun on Long Lake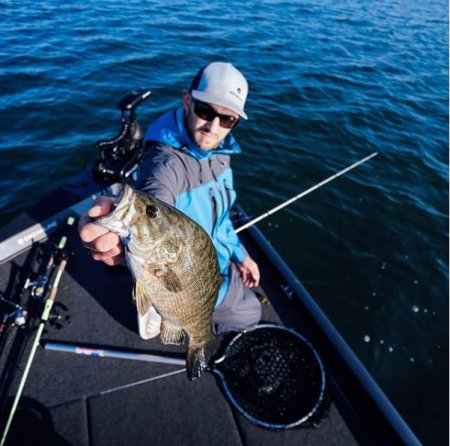 There are many lakes in Michigan named "Long Lake," but ours is the longest. No joke. Come for pretty much any lake sports you can think of, but especially fishing and boating. Yes, now it's time for that showpiece snapshot of you, sun-kissed after a satisfying day on the water, holding a whopping catch. Show it off back at the Sand Bar & Grill.
Fossil Hunting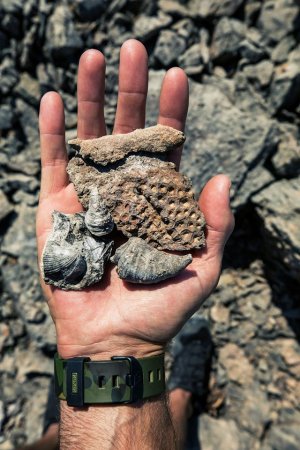 For anyone sharp enough to spot a fossil as they walk through the old Rockport Quarry among the loose rocks, Rockport State Recreation Area offers a unique diversion: time travel! The fossils here take you 400 million years back in time to the Devonian Period, also known as the "Age of the Fishes." You could find aquatic invertebrates, corals, echinoderms, and lophotrochozoan animals. Don't know what those are? Find out at the Besser Museum for Northeast Michigan.
Sunrise & Sunset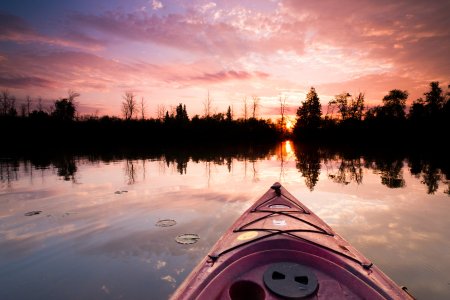 Who doesn't love the beauty of a sunrise or sunset? View it on the edge of Lake Huron in picturesque surroundings such as Starlite Beach, Bay View Park, or the Alpena Marina. Or follow the Thunder Bay River inland to Fletcher's Pond to watch the show of colors reflected in another gorgeous body of water. If you're camping at Ossineke State Forest Campground, you can walk the sandy beaches every morning and catch the sunrise over Thunder Bay.
Downtown Alpena
The final stop on your self-guided tour is downtown Alpena itself. Now that you've experienced all the nature and culture of the area, it's time to shop, eat, and enjoy our thriving and historic downtown. There are several options for Instagram-worthy dinner plates at restaurants such as The Fresh Palate, photogenic (and delicious) ice cream cones to be had at Downtown Scoops, as well as, local shops like Parallel 45 Books & Gifts that will round out your Alpena Area adventure.
Plan your insta worthy trip to the Alpena Area today.