Every good dog owner knows the value of companionship when it comes to our furry friends. Since dogs are often viewed as extensions of our family, they should be treated as such, especially while traveling. In the same way that we humans can get stressed, anxious, tired, or restless during travel, so too can our dogs. Dog owners should understand how to ensure safe and comfortable travel for themselves and their dogs.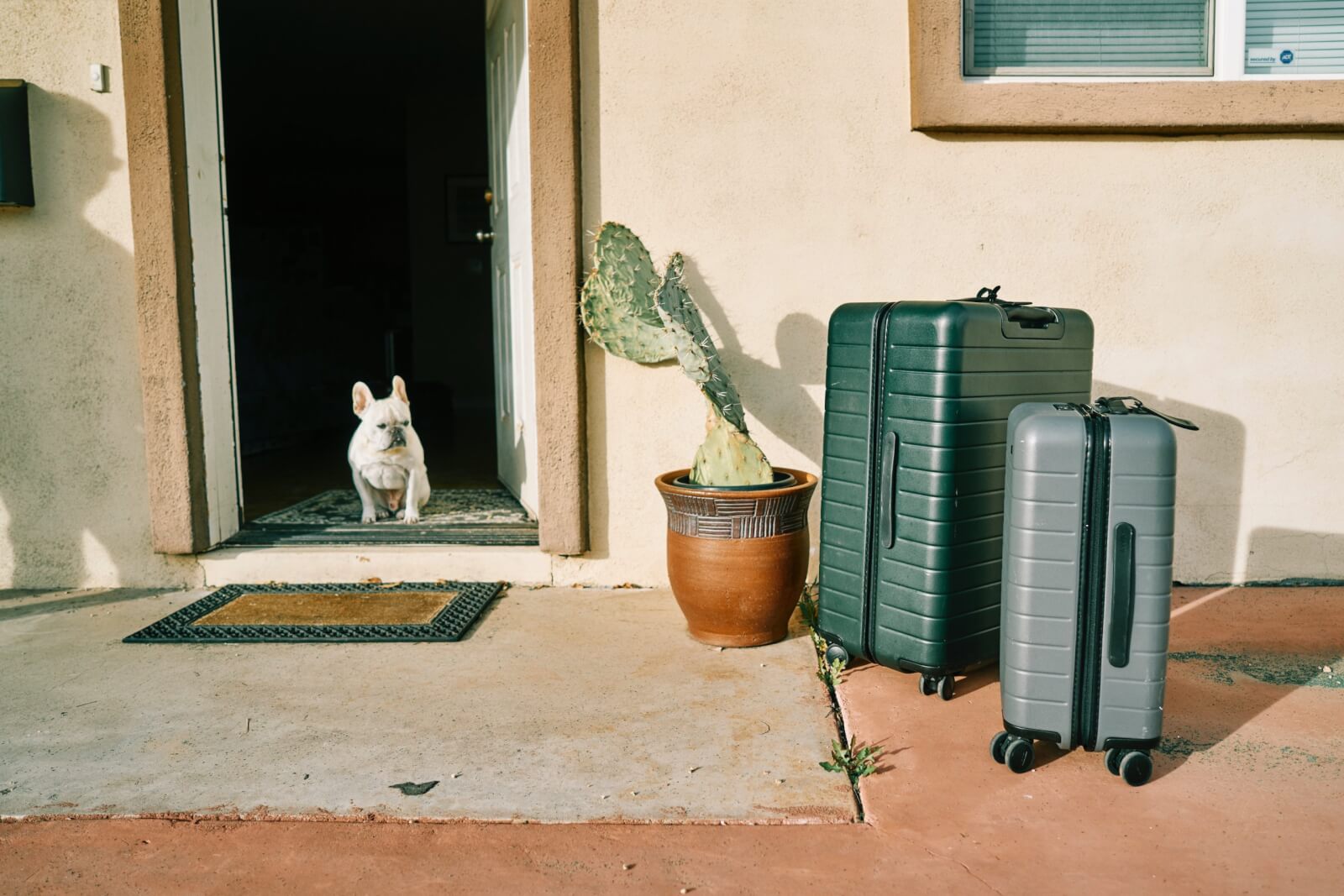 Puperation
Preparing your pup for travel isn't as simple as a bowl of water and an empty backseat. Not only must you consider the dog's physical state over prolonged travel, but their mental and emotional states as well. Having water, snacks, toys, and other familiar items can help make your dog comfortable.
For Samantha Hamilton, writer and creator of the New England Wanderlust Blog, packing a doggy-kit is a must.
"We have a dog kit in our car at all times, which includes a towel for wiping paws, paper towels and cleaning solution in case of accidents, poo bags, extra food/treats, travel bowls and a couple of toys," Hamilton said. "In case we ever forget anything when we travel with our dog, we always have these back-ups in our car to keep our pup happy, healthy, and comfortable."
Besides packing the necessities, you should acclimate your dog to long travel by going for shorter, "practice" trips. This is helpful for two main reasons: your dog becomes more comfortable in a moving vehicle and more familiar with the crate they'll likely be traveling in. By skipping out on "travel training," your dog may become restless, anxious or stressed by the new environment. This can be a major issue while traveling and can make for a bad experience for both you and your dog.
Jackie Lambert, blogger and creator of World Wide Walkies, recommends being knowledgeable about your dog's physical health.
"Take a pet first aid course," Lambert said. "Learn to recognize the symptoms of common problems, such as heat or cold distress and learn what to do about these."
Packing a first-aid kit and up-to-date medical records are a great way to go the extra mile for your dog's safety.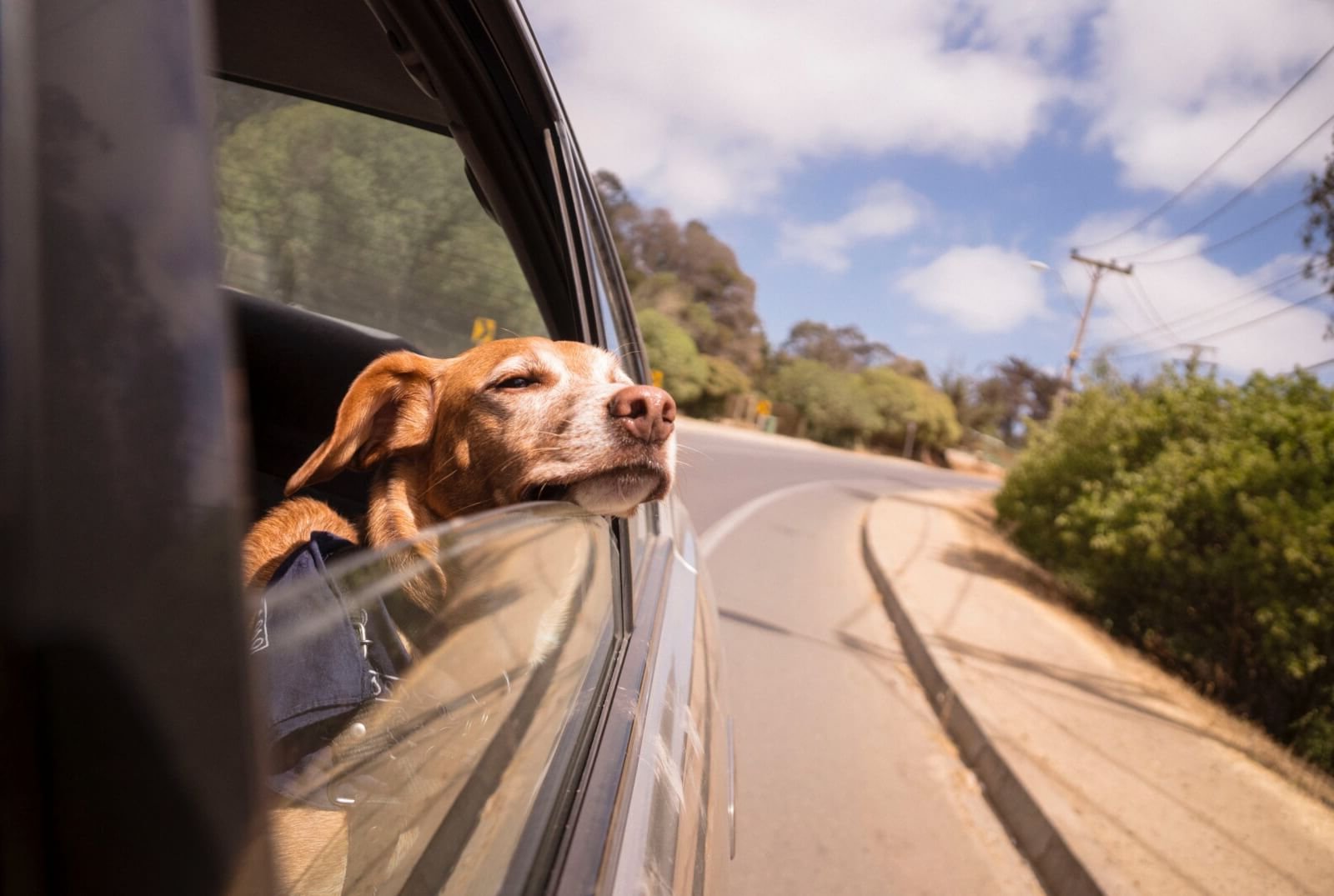 Fur out the Window, Wind in the Fur.
Assuming your dog has been car trained and is comfortable being in their crate, the next step is to plan out some stops along the way. Factoring these mandatory dog-stops into the total travel time, you'll avoid feeling rushed. Adequate research of available rest areas will make this process much easier.
For Emily Cuneo, owner and author of Emily Embarks, planning out pup-stops is easy.
"Pick out a rest area, small park, playground, or field along the drive to stop at to ensure that they're going to get scheduled time to go to the bathroom, get some energy out, and have a snack," Cueno said.
When driving with your dog through the US, it's important to check the laws when it comes to driving with dogs. The law may require the dog to use a seatbelt harness or be in a crate. Owners should also consider the stability of the crate. Securing the crate will help reduce turbulence and shifting and make your dog feel safer. Do not drive with your dog on your lap, as this can be dangerous and illegal.
Nina Clapperton, owner and creator of Nina Out and About, says many owners likely aren't familiar with the legal reasons to restrain their dog in the car.
"In North America, if you are in a car accident, emergency personnel cannot get into your vehicle if there is a loose animal," Clapperton said. "For their own safety, they must wait for animal control. It doesn't matter if it's a Chihuahua or a Doberman, if your dog is not restrained in a carrier or with a seatbelt, the EMTs have to wait."
The Flying Canine
Unlike driving, there are no bathroom breaks or snacking opportunities on a plane. There are several steps owners must take prior to departure to make the process as smooth as possible.
First, contact the airline and check their pet policy. Some airlines, like JetBlue and United, allow owners to purchase seats for their dogs as long as the animal is within a certain size, breed and health. Don't forget to bring your dog's health certificate and proof of rabies vaccination as well.
Traveling in the cold and dark cargo hold can be a scary experience for a dog. Providing toys and getting them used to their travel crate beforehand can help give your dog a sense of familiarity in the unfamiliar environment.
As stressful as traveling on a plane may be for your dog, Dr. Linda Simon, veterinary surgeon and consultant for Five Barks, advises against giving them any unnatural medications.
"It is never recommended to sedate your pet when travelling, this can interfere with their breathing and is simply not safe," Simon said. "It is okay to use natural calming products such as pheromone sprays and herbal tablets that your vet can offer you."
To counter your dog's inability to adjust the pressure in their ears, try giving them a slow meal, like a big bone. This gives them something to chew on and swallow throughout the flight. The action of swallowing the food should allow their ears to adjust to the pressure.
Train travel with a pet is like flying. Owners should check the company's policies on pets before the trip. Luckily, there's no cargo hold on trains and owners are able to stay close to their dogs.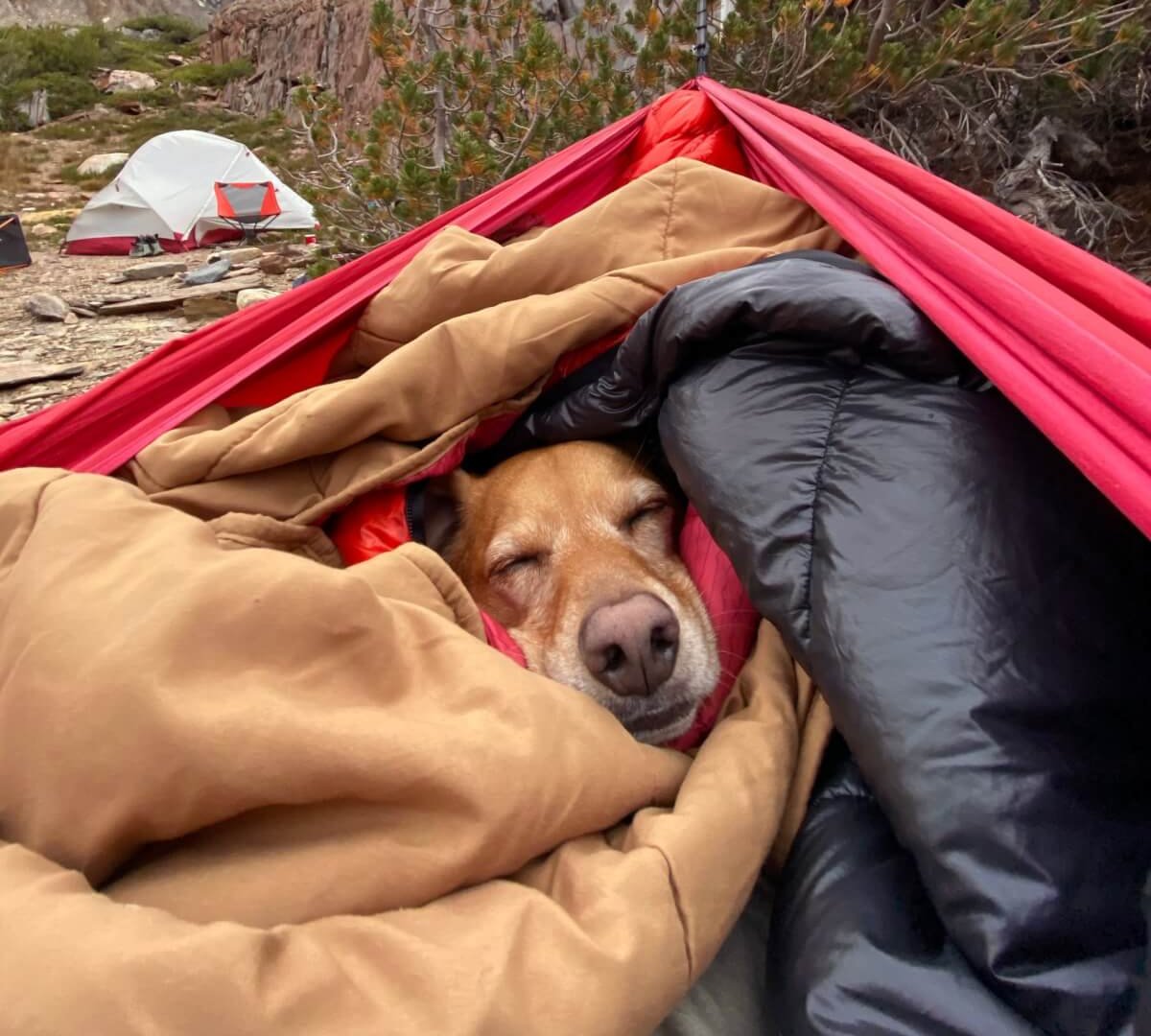 Dozing off with your Dog
Alongside possible rest areas, make sure to research pet-friendly hotels around your destination.
Samantha Hamilton, writer and creator of the New England Wanderlust, says, "The Kimpton brand hotels have a very generous pet policy, so whenever my husband and I travel to Boston, NYC or any city where we want to bring our dog, we stay exclusively at Kimpton hotels if there's one in the city.They also offer pet amenities upon request such as dog beds and bowls, in case you can't bring your own, or forget."
Another great resource for owners looking for pet-friendly hotels is Bring FIDO. Bring FIDO searches for pet friendly hotels based on location. The site also tells you whether the hotels accept big dogs or only allow little dogs, and allow many pets at a time.
Daniel Maas on Unsplash

James Frewin on Unsplash

Halie West on Unsplash

The Smell of Adventure
Doing research and being adequately prepared for a variety of situations is the best way to ensure your dog's comfort while traveling. Don't forget to add in bathroom breaks, search for pet-friendly hotels, or bring along familiar treats and toys for your next trip with your best, furry friend!
Check out more useful travel tips & tricks here.