Wild and Wonderful
Discovering outdoor adventures as a family in Southern West Virginia
Southern West Virginia is an outdoor adventure haven. When I say there are a lot of things to do, I mean there are tons of choices of activities and endless variety in how and where to do them. So much so, that my family and I will certainly never exhaust the list or ever get bored. In other words: perfect family getaway. My husband, Ron, our two kids, Morgan and Cody, and I are all about it.
ATV riding, zip-lining, and world-famous whitewater rafting appeal to our adrenaline appetites. Hiking and horseback riding are among our preferred styles of trekking within the natural scenery. I couldn't possibly list all the available activities, but suffice it to say, rivers, lakes, trails, wildlife, and outdoor-loving outfitters make Southern West Virginia an incredible natural playground.
Country roads, take us there
West Virginia is the most northern of the southern states and the state with the highest elevation east of the Mississippi. It's apparent from the moment we pick up our rental car that people here are friendly. The helpful young clerk hands us a bunch of brochures and tells us to "Have fun, y'all."
As we drive, I appreciate the perfect summer day—a cornflower blue sky stretched above us, laced with puffy clouds, the roads undulating through the lush, green scenery. We pull over several times to snap pictures.
It wasn't long before we're out in nature. One of three National Parks in Southern West Virginia, The New River Gorge National River, has a staggering 70,000 acres to explore. Driving the nine miles from Hinton to Sandstone Falls orients us on the first day. The area is so heavily wooded because it lies wholly within the Appalachian Mountain range, which might be why its nickname is "the Mountain State." Our first hike is short and gorgeous.
We take the Island Loop Trail and gawk down at Brooks Island, where bald eagles have made their nest in a sycamore tree. In a short time, we spot ospreys, hawks, squirrels, turtles, and butterflies. We also know black bears, red foxes, bobcats, cardinals, otters, and turkeys call this lush area home.
The fresh air is intoxicating for us city dwellers. After dinner at a fabulous Mexican restaurant, we head to a rustic and comfy cabin in Fayetteville. With a full day ahead, we turn in early.
Four-legged and four-wheeled rides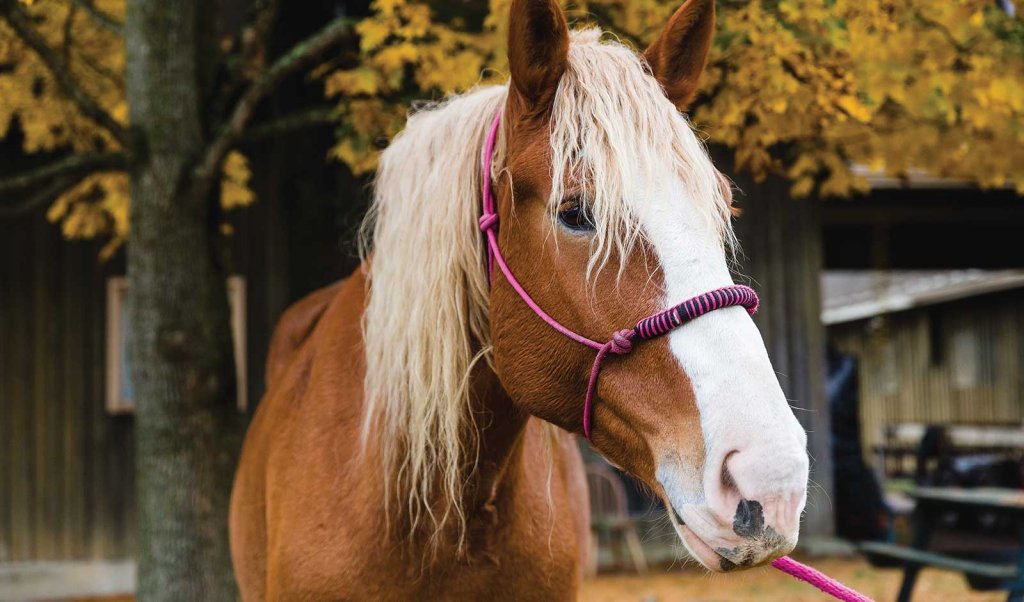 Today is all about mobility: first, horseback riding, and then ATVs.
We saddle up for a three-hour guided ride in the Meadow River Gorge, the most remote of the four canyons under National Park protection. The setting is serene, and the terrain is all ours to discover as we follow the river through evergreen forests and past towering cliffs and giant boulders at a leisurely pace. At one point, we pass kayakers who wave hello, and we respond in kind.
The Hatfield-McCoy Trail System—one of the largest ATV off-roading trail systems in the world—takes its name from the famous feuding families. There are trails for everyone, from beginner to expert. We don helmets, hop on bright red vehicles, and rev our engines. A round of thumbs up, and we're off, a cloud of dust rising in our wake. I'm pretty sure time flies in conjunction with our own speed. Still, over lumps, around bends, through the beautiful, natural territory, we made the most of every motorized minute to the breathless end.
As dusk falls, we prep for night zipping. The moon is a silvery crescent as we put on our LED-lighted vests and wristbands. Once everyone is harnessed, it's nervous giggles all around. It's more than a little intimidating to step off a rocky ledge and plunge 300 feet into darkness.
And then whoosh, we're zooming and screaming as if on a roller coaster.
"That was awesome!" Morgan says once we hit the ground, giving her brother a fist bump. Agreed.
A run to remember
We've all been looking forward to testing our mettle on the New River, which, despite its name, is plenty old. It also happens to be the longest stretch of whitewater in the U.S.
The Lower New River Gorge is varied: churning in some spots, calm in others, with a variety of challenging rapids suitable for intermediate rafters like us. Once we are kitted out, we are also briefed and partnered with another family and a guide for the journey, which includes a deli picnic lunch. Adrenaline pumping, we take in the soaring sandstone cliffs, synchronize our movements, and do battle with the river while scanning for wildlife.
By the time we get to the New River Gorge Bridge—the longest steel arch bridge in the Western hemisphere—we are happily soaked. We make fast friends with the other family we were partnered with, and I can't remember the last time I've laughed this much.
We return to our cabins and get cleaned up for a laidback evening in. Quietly refueling over a meal made together, we watch the sun drop. When we stop shoveling the well-earned food into our mouths, conversation picks up in the form of reliving the day's highlights. I love these moments. It's where excitement and exhaustion meet in words that speak more about successful bonding than their literal meaning.
You can't really know West Virginia's outdoors until you experience the state parks.