5 Sonoma Experiences that Go Beyond Wine
By Lindsey Wilhelm
Add these activities to your wine-tasting getaway in Sonoma County, California
With more than 400 wineries sprinkled throughout its rolling hills, Sonoma County, California, offers no shortage of award-winning wine. In fact, when planning a trip to the region's 18 distinct American Viticultural Areas (AVAs), the hardest part is narrowing down which wineries to visit and which to save for next time.
My boyfriend, Grant, and I recently spent a couple of days in Sonoma County and planned to taste our way through the wineries — but we did so much more! The most surprising thing we discovered is how much richer the experience can be if you don't limit yourself to wine. Along the way, we stumbled upon these five noteworthy experiences that go beyond just grapes.
1. Views & Vibes
It's no surprise that a world-famous wine region boasts breathtaking views. Mature grapevines grow in neat lines on golden peaks, repeated for miles in every direction. As far as picturesque, relaxing locations go, the hilltop setting at Viansa Sonoma takes the cake (or maybe the cork?).



Inside the Tuscan-inspired tasting room, guests can purchase wine by the glass or bottle as well as cheese boards, snacks, and sandwiches from the market. We decided to grab a glass of wine instead of sitting down for a formal tasting, which requires a reservation. Before taking a seat at one of the comfortable tables on the patio, we explored the manicured grounds and took advantage of picture-perfect selfie spots with the chic tasting room and vast valley as the backdrop.
I ordered a glass of the Bianchetta Trevigiana, which was light and crisp. Grant opted for a red blend with more depth. We were impressed with the quality of the wine, but the panoramic views and tranquil ambiance at the Viansa winery and marketplace made the visit truly memorable.


2. Do as the French Do
Sonoma is affectionately nicknamed the Valley of the Moon, as "Sonoma" comes from an indigenous word for "many moons." But after a visit to Les Pascals, I could have sworn it meant "Little France." This bakery — owned by Pascal Merle and his wife, Pascale — brings an authentic taste of French cuisine to Sonoma County.
When I found Les Pascals on Yelp while planning for our trip, it instantly shot to the top of my must-visit list. During college, I studied abroad in Paris and minored in French, so I revel in experiencing Francophone culture in the US. We decided to live large and purchased a couple of sandwiches to pack for our wine-tasting adventures as well as pain au chocolat, a lemon tart, a coconut meringue, and an almond croissant. The delicious treats did not disappoint! Pascale herself took our order, and her kindness and passion for her business shone through from behind the counter. It truly felt like being back in France, if just for a few moments.

It truly felt like being back in France, if just for a few moments.
Later that day, we stopped at Cornerstone Sonoma — an open-air plaza with shops and restaurants — between winery visits to eat the ham-and-Swiss and prosciutto-and-Brie sandwiches we grabbed at Les Pascals. We had time for a quick glass of wine at the Meadowcroft Wines tasting room, savoring each sip as we strolled through the on-site gardens.
3. Add in Artistic Expression
Some say wine is a form of art in and of itself. At The Donum Estate, the wine is art — but so are the impressive collection of paintings, larger-than-life sculptures, and more.


I had heard about this art-focused winery from one of my sisters, and after looking up photos of the grounds, I was convinced. This was the one winery where we made a reservation ahead of time, which is required. We opted for the Discover Experience, a 90-minute immersive tour beginning with a tasting of four wine varieties — each paired with a chef-driven bite sourced from the estate's garden — and culminating with a walking tour of the incredible art that is peppered throughout the grounds. Highlights included Ai Weiwei's bronze Zodiac Heads, Jaume Plensa's Sanna head, Fernando Botero's Hombre Caminante sculpture, and Gao Weigang's brass Maze. Our guide was knowledgeable, passionate, and professional. It was truly a special experience.



4. Venture Past the Vino
There's more to Sonoma than just grapes — but Hanson of Sonoma actually crafts its vodka from grapes, too.
We'd hired a driving service to safely shuttle us to Sonoma wineries and learned that this doubles as an exceptional way to get insider tips on up-and-coming and under-the-radar spots. Our driver pointed out the Hanson distillery after we left the Donum Estate, so we decided to stop in and switch things up. After receiving friendly service and tasting our delicious drinks, I knew we'd made the right choice!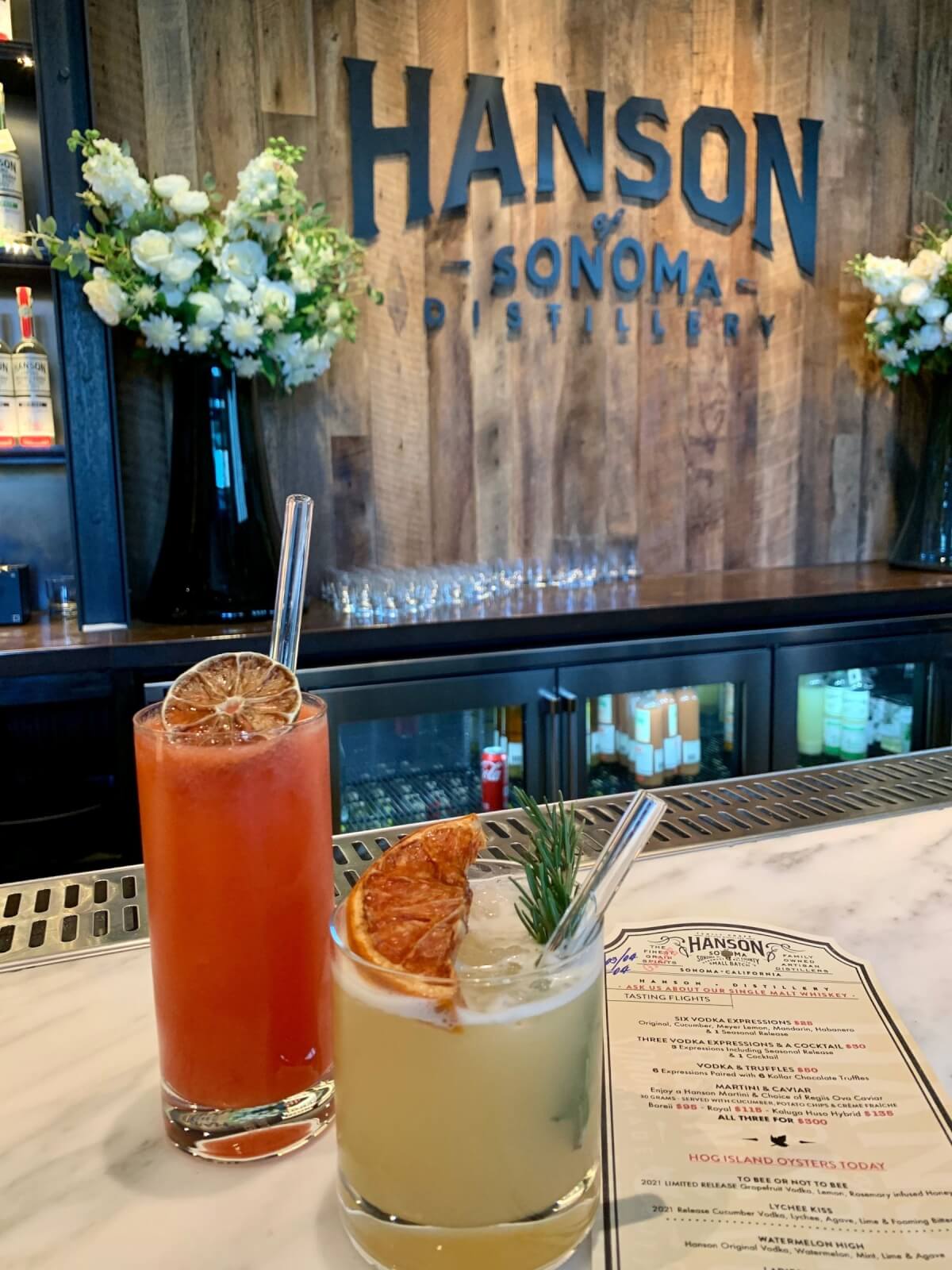 It was tough to settle on a cocktail with so many mouth-watering options, but I went for the Strawberry Blush with Hanson's habanero vodka, strawberry, ginger beer, agave, and lime. Grant chose the Lychee Kiss, made with the house cucumber vodka, lychee, agave, lime, and foaming bitters. Both were refreshing and just the right way to end our afternoon. Don't miss the lake outside of the distillery, framed by willow trees, pampas grass, and blooming flowers.
Late-Night Like a Local
Walking into Starling Bar felt like walking into Sonoma County's own Cheers. From what I could tell, Grant and I were the only outsiders there on a quiet Sunday evening. Just a five-minute walk from our hotel, the El Pueblo Inn, this local joint caught our eye on Yelp thanks to its eclectic cocktail list and the fact that they serve wood-fired pizzas from the girl & the fig, a highly rated restaurant just down the road.
As we sipped our drinks (a Pica Pepper Margarita with spicy reposado tequila, fresh citrus, and chili flakes for me and a local beer for Grant) and munched on our pizza (the Alsatian, topped with house-cured bacon, roasted potatoes, garlic créme fraîche, a four-cheese blend, and chives), I felt like this would be my go-to bar if I lived in Sonoma County.



Apparently, I wasn't the only one who felt that way. I observed a couple walk up to the bar and emphatically tell the bartender that they'd been in a few times and it was their favorite spot for date night. A woman sitting at a table near the bar overheard a patron talking about a nearby restaurant where he works as the chef, and she exclaimed with glee when she heard that they had just brought back their breakfast menu. It was comforting to find a hangout that truly means something to the community … and where everyone knows your name.
Raise a glass
Sonoma County wineries are world-renowned for good reason, but there's so much more to this region than just its wine. Cheers to all the unexpected experiences that await in Sonoma County and to finding even more gems next time.
Keep the wine flowing with this guide to the Verde Valley Wine Trail in Arizona.
Meet the Travelers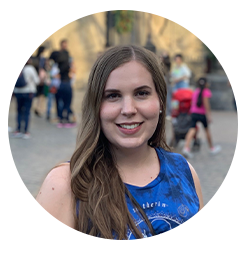 Lindsey is an Arizona native who loves to spend time outdoors (except in the dead of summer) and indoors (to fuel her shameless obsession with 90 Day Fiancé and true crime shows). Poke bowls, matching pajamas, concerts, Cirque du Soleil, and her houseplants are a few of her favorite things. Follow along as she explores the Grand Canyon State and surrounding areas!