5 Tips with insight on how to conquer the open road during your next adventure
The Road Trip is an American icon in and of itself. It is synonymous with self discovery and conjures feelings analogous to the warmth that lives in the frame of a cherished polaroid. While these journeys can be done with friends, there is a certain bliss in discovering the path that lies ahead on one's own. If you are feeling like pushing yourself out of your comfort zone, here are some recommendations to keep in mind to tackle the ultimate solo road trip!
Where to Go
Step one of your incredible solo journey starts with where you'll go. Wanderlust lives in us all, but it hones in on particular locales and adventures for each of us to varying degrees. Think about what you are looking for in your road trip and what locations can best serve that purpose. Travel is about discovering oneself and the world around you — take a leap and wander towards something that will help you grow.
"When choosing a destination, it's good to think about one big thing you've always wanted to do," said Amy Burket, founder of GoPetFriendly. "Maybe it's seeing the Grand Canyon, spending a relaxing week at the beach, or driving Historic Route 66. Start with what's calling to you, and then begin your research. Find fun things to do along the way, or places near your destination for day trips."
Your road trip should be personally inspiring for you. Keep yourself engaged throughout the planning by selecting a location that speaks to you for one reason or another. Perhaps the one place you never thought would fit your personality or interest could be the perfect impetus for finding the next best version of yourself.
Find more destination ideas like this Rocky Mountain Road Trip Here.
Resources You May Need
Solo trippers need to keep in mind the fact that they have to rely on themselves for any and all occurrences while traveling the open road. This means planning ahead is critical. Having helpful and essential items at your disposal can sometimes be the difference between a fun trip and a lesson rather not learned. Try and think about items that will be useful for you during different stages of your trip. Also consider likely and unlikely eventualities that may occur on the journey and be prepared. If you need help coming up with a list of road worthy items, check out our packing essentials resource guide.
For David Leiter of The World Travel Guy, planning your route is essential.
"I like to download a Google map for the entire state (or even multiple states) before I start a road trip, that way if I lose reception in the middle of nowhere I can still keep using the maps for navigation," said Leiter. "This can be a big help in the mountains, where you might lose reception completely."
Failure to prepare is preparing to fail. Be smart and gather the resources you will need on your journey. If done correctly, you can hit the open road with confidence, confident in your ability to handle whatever the road throws your way.
Your Road Trip Intent
There are many types of travelers — and many ways to go about your adventure. Maybe you're the music blasting, singing to all of your adoring fans on the highway kind of driver. Or, perhaps you like to take things a little more slowly, thinking deeply about the environment around you and your place in the world. Whatever your road trip intent and style, consider your motivation and temperament and plan accordingly.
"Do you want to see a lot in a short period of time, or do you want to chill?" asks Carol Guttery, a travel writer for Wayfaring Views. "If the former, it argues for covering a lot of ground on a highlights tour with quick stops for scenic overlooks, roadside attractions and short walks. A slower pace would cover less mileage and fewer attractions, but allows more opportunity for soaking up local atmosphere and committing to more immersive experiences.
Consider what level of road warrior you are and have the desire to be. There are countless ways to experience the open road. You can take things fast or slow, it's up to you.
Time Behind the Wheel
Perhaps the most critical factor of your journey will be the time requirements of getting to where you are going. Long haul drives can be novel the first couple times around but, seasoned roadies know that time behind the wheel is no joke. When it comes to putting rubber to the road, be prepared for what that actually means.
"Few of us are accustomed to spending hour after hour behind the wheel," said Phil Partridge of Rino Car Hire. "You might find it harder work than you thought. Sure, you just sit there right but don't underestimate how tiring driving four or five-plus hours at a time can be. Plan your trip and try to limit hours at the wheel to a reasonable amount."
In addition to appropriate time expectations, consider the location in which you will be driving. There are certain stretches of midwest road that, in the proverbial sense, quite literally do not end. Be prepared with entertainment and steele yourself for some of the in-between parts of the trip — but remember, it's all part of the adventure!
Taking Charge of Your Adventure
The opportunity to discover the world on your own time and through your perspective is one of the great take-aways of solo travel. Take advantage of the opportunity: work diligently, make extraordinary memories, and learn.
"Make the most of your journey," said Ojas Mhatre, founder of Unstumbled. "You are traveling alone. You can do whatever you feel like. Pull over and stop wherever you want to. Taking the scenic route always helps and hits closer to home."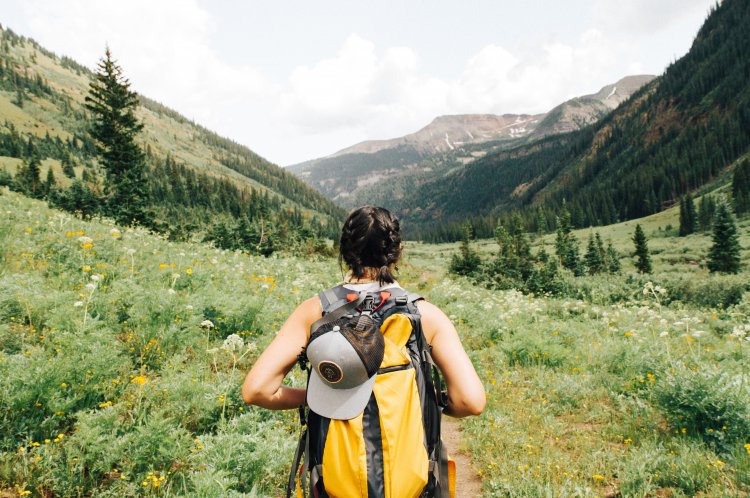 On your solo road trip, dare to wonder and to wander. Find something new that stirs your heart and soul. Meet new people and leave a piece of yourself wherever you go. Traveling the open road is an unmatched level of agency and freedom, putting you in control of the story of your adventure. Seize the moment and follow your heart to quickly become a veteran of the road.
For more inspirational stories and travel resources, explore Vacationist USA!